Have you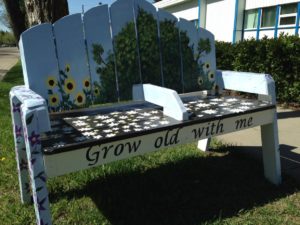 seen the new species popping up here and there on the boulevards of Holyrood?
Constructed of wood and painted in pleasing colours and patterns, they are the fabulous "SEESA Benches". According to SEESA's Kim Buehler, the benches are "seeding" themselves nicely across our neighbourhood.
The Holyrood Bench Project aims to promote walkability by providing spots for walkers to rest, chat and enjoy the outdoors. The benches are constructed by a SEESA volunteer, and then adopted out to various Holyrood households willing to paint and maintain the benches on the boulevard at the front of their property. Check out Holyrood resident Maria's blog post for more great photos!
SEESA has had quite a few extra orders since the project started, and they're selling additional benches for $100! If you are interested in growing your own bench, please contact kimberly@seesa.ca.